Purpose: Inflation and back-up air for NorLense booms.
NorLense/DYNASET hydraulic compressors are compact and integrated all-in-one units, especially designed for mobile installations. The only power source is a hydraulic system to provide compressor with required hydraulic fluid flow at demanded pressure. Air compressors are installed in frame with lifting lugs and pockets for forklift.
NorLense/DYNASET hydraulic compressor transforms hydraulic power into a high quality compressed air.
Utilizing compact rotary vane technique, DYNASET hydraulic compressor of HKL-series is a mobile unit comprised of a hydraulic motor with incorporated automatic rotation speed control valve (up to HKL 1800) and rotary vane compressor block. Compressor block includes stator-rotor unit, cooling and lubrication systems, oil separator and compressors shafts are coupled when rotor runs inside of stator eccentrically.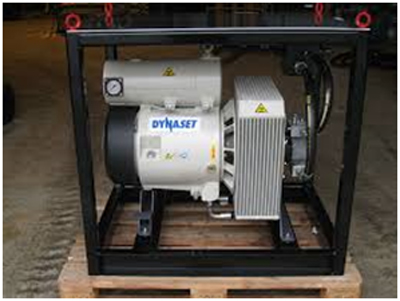 Compressor type: Dynaset HKL 4100/8-113
Type: Lamella compressor
Dimensions: Length: 870mm, With: 495mm, Height: 770mm
Weight: 185 kg
Capasity: 4100 mᶟ/min
Work pressure 6-8 bars
Hydraulic flow requirements: 113L/min
Hydraulic pressure requirements: 210 bars
Other types available.